Being a primarily agricultural domain, you will find an abundance of vegetables and fruits farms dotted all over the highlands. Cameron Highlands is also the leading producer of flowers and tea in Malaysia. Be prepared for a lovely sight of tea plantations and beautiful flowers you won't see flourishing elsewhere in Malaysia.
Located on the Titiwangsa Range at about 1500 metres above sea-level, the temperature here can drop to 16 ˚C or lower at certain times. The weather here remains at the lower 20′s most of the time.
Cameron Highlands is made up of 4 main townships followed by smaller settlements at different elevations. The first town from the south is Ringlet, followed by Tanah Rata, Brinchang, Kea Farm, Tringkap, Kuala Terla and Kampung Raja.
Ringlet
If you're taking the old road via Tapah, this is the first town you will reach after after the 1 hour drive through the rainforest. Located at an elevation of 1,200 metres above sea-level, Ringlet is one of the main agricultural hub for the highlands. There is nothing much to do here for the typical tourist besides stopping for fuel as this is one of of the towns with petrol stations. Bertam Valley which is located about 5km away is one of the main flower and vegetable producers in Cameron Highlands. The nearest hotel is the LakeHouse which is less then 5 minutes drive from here.
Tanah Rata
The heart of Cameron Highlands is indeed its administrative township called Tanah Rata which is highly popular among local and foreign tourists. Nestled at an elevation of 1,440 metres (4,720 ft) with a daily temperature range from 16 to 24 degrees Celsius, the air here is fresh and crisp and the surrounding land is ideal for a wide range of temperate and sub tropical flowers that thrive here in abundance.
The name "tanah rata" actually means flat ground in Malay and it refers to the relatively flat valley on which the town is located amidst the surrounding hills and mountain peaks. Being a popular place among tourists, there are many hotels, resorts, holiday apartments, backpacker inns and lodges located within the town and also at its surrounding countryside.
Tanah Rata has banks, bars, money changers, sundry shops, cyber cafes, tour counters, restaurants, fast food outlets and even a Starbucks cafe. Tourists often choose to explore the surrounding sub-mountain forest here as there are numerous jungle trails with varying lengths and difficulties conveniently accessed from town.
Some trails that are popular include the Trail Number 4 from Parit Falls among others leading to mountain peaks such as Gunung Beremban (1,812m), Gunung Mentigi (1,535m), Gunung Perdah (1,551m) and Gunung Jasar (1,670m). All jungle walks here are numbered and can be easily referenced from tourist maps available from shops, cafes and hotels around town
Brinchang
Brinchang which is a bustling township in Cameron Highlands is located five km from Tanah Rata. It is the highest and second largest township of Cameron Highlands, attracting a large number of local tourists on weekends and public holidays.
Brinchang has a popular night market during weekends and public holidays which attracts local tourists with its highland produce, local street food, soft toys and fruits.The town has a numerous restaurants serving Chinese, Malay and Indian cuisine and a range of budget and medium ranged hotels.
Being located higher, the place is frequently blanketed by heavy mist, while on clear days, the air is crisp and the surrounding mountain view is magnificent.
Many  vegetable farms, flower nurseries and fruit orchards are located close to this town and some popular tourist spots here include Cactus Valley and the Big Red Strawberry Farm.
Kea Farm, Tringkap, Kuala Terla & Kampung Raja
Beyond Brinchang, the road leads to all the way to Blue Valley. Most of the tourist spots are located around this route. This is where you will find the markets, vegetable farms, flower gardens, bee gardens and butterfly gardens. The road also branches out to the Sungai Palas tea plantation from here where you can visit the factory or have a cup of tea while enjoying the breathtaking view of the plantation.
If you continue on the main road heading north, it will be downhill from Kea Farm onwards. You will see vegetables farms all the way from here to Tringkap and beyond. Tringkap is a small farming community where you can find stalls along the road selling local produce. Fifteen minutes away is Kuala Terla, another small farming community. Kampung Raja is the last town on the map. Since the opening of the Simpang Pulai road, this town has become the gateway to the highlands from the north. From here, you can head west to Ipoh or east to Gua Musang in Kelantan.
Things To Do
There are so many attractions in the Cameron Highlands it is difficult to know where to start but I will give you a few of my favourites.
Since we had our own car we drove ourselves to all the attractions and did not take any tours during our stays.
Butterfly Park
On the main road (coming from the Ipoh direction) you will pass a butterfly park just before the town of Brinchang.
This butterfly park is just as good as the more famous one in KL and it is cheaper and a lot cooler to walk around. Besides some amazingly colourful butterflies they have a few snakes, iguanas, scorpions, stick insects, a giant tortoise and lots of flowers of course. During our visit a tourist guide was showing off his snake handling skills to a group of foreign tourists. The snake bit him on the hand! Sometimes you are a lot safer without a guide!
Highlands Apiary Farm
At the bee farm (close to the village of Habu) we got to see the inside of an active honeycomb and to admire the lovely flowers which are grown to sustain the bees. There was a selection of honey products in their shop. I bought some Tongkat Ali honey which looked like a jar of regular honey with a few sticks of wood inside. Tongkat Ali is a medicinal plant unique to Malaysia and is said to have energy giving powers (similar to ginseng), particularly for men. I cannot comment on its efficacy as this is a family website but the taste is somewhat bitter.
Boh Tea Gardens
There are a number of tea estates all over the Cameron Highlands and some of them are open to the public.
We went to the Boh Tea Factory & Tea Shop on Jalan Boh a couple of kilometres up the road from the apiary.
Here we were able to stroll through some of the neatly trimmed tea gardens up to a viewpoint on a hill with a panoramic vista of the whole estate.
We took a mini tour around the factory where one of the employees explained the sorting, drying and packing process.
Then the best bit, a large pot of delicious, strong, English style tea served with milk and a piece of home-made cake on the terrace of their tea shop.
I don't know whether it was the freshness of the tea leaves or the skill of the staff but you can never get a cup of tea as good as that in any restaurant anywhere.
We stocked up on teas of various blends from their shop before leaving.
Cameron Bharat Tea Shop
We were so impressed with the tea that we stopped off at another tea estate, Cameron Bharat, on the way back to Tanah Rata. Here we had an equally good cuppa followed by a pleasant walk through the patchwork tapestry of tea bushes down into the valley where there is a picnic area next to a stream. From here we could see the basic but tidy rows of housing for the estate workers and their families.
Mt. Brinchang
It is possible to drive to the summit of Mt. Brinchang (2031m) in a regular car. This is the highest mountain in Malaysia that you are able to drive up. The approach road, Gunung Brinchang Summit Road, is steep, narrow and winding so a bit of care is needed. If you can, avoid weekends when the traffic is heavier because there are not many places where the road is wide enough to allow oncoming vehicles to pass each other.
The drive is well worth the effort. Just before reaching the peak you will see a parking area from where a boardwalk takes you into a mossy forest where all the trees are coated in a thick moss. If the hill is covered in mist, which it was on our visit, the effect can be slightly eerie. Some have compared it to a set on Lord Of The Rings.
At the summit of Mt. Brinchang there is a lookout tower with magnificent views of the surrounding hills. There is very limited parking here so if it is busy you could leave your car back at the boardwalk parking area and walk to the summit along the road.
Mountain Trails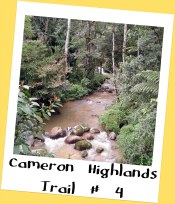 If you prefer to walk up your mountains rather than drive there are 14 established walking trails in the Cameron Highlands area and at least 7 mountains of over 1500 meters. Take normal precautions, and make sure you let someone know where you are going and when you expect to get back. Remember Jim Thompson! It is probably best to ask your hotel for up-to-date advice and a map on recommended trails.
I took my family on an easy trail (Trail #4) near the Parit Waterfalls which starts close to the Century Pines Hotel in Tanah Rata where we were staying.